SAP HANA Hosting
Individual HANA-Sizing according to your needs
THAT IS WHY THERE IS SAP HANA
Simplification
In spite of the large database, you never lose track, thanks to the intelligent database SAP HANA.
Innovation
As an In-Memory-Database, SAP HANA builds the necessary base for the visions of the future.
Data Transformation
Work more quickly and efficiently thanks to the real time data editing and data output.
These Challenges Your SAP Environment Meets
In our blog post, we explain SAP HANA and the technologies behind it to you in details. Moreover, we show you the changes and challenges, which your company will meet.
SAP HANA HOSTING – HOW IT FUNCTIONS
Benefit from the optimal and cost-efficient hosting of your HANA solution in our computer center. Whether on your own hardware appliance or in our SAP TDI environment (Tailored Datacenter Integration), we take care of everything in person. Thanks to our flexible SAP HANA hosting, only the actual monthly costs will be incurred. High investments, maintenance costs, and contract terms belong to the past. SAP HANA by abilis combines all the data from different sectors, for example finances, marketing, distribution, production etc. The graphic and easy to understand processing of your business data allows you to adapt your company's processes more quickly. Detect promptly changes in your processes thanks to SAP HANA Hosting by abilis.
Sybase: Let the technical support systems, which do not require regular changes, for example SAP Solution Manager or SAP-Fiori frontend components, run on Sybase. Sybase databases are significantly cheaper than SAP HANA and for some systems their functionality is enough.
Schon gewusst? The Sybase licences are included in the SAP HANA licences. Thus, you save the costs for additional anyDBs. 
SAP HANA: SAP HANA should be the basis for your SAP S/4HANA Business Suite and for your SAP-HCM System, for example. In this way, all important business applications, which have to be managed consistently and which have to show high performance and data analysis, have the same basis. Only thus, an access via SAP Fiori is possible, which ensures an optimized user experience for everyone in the SAP HCM sector. 
SAP HANA HOSTING COSTS BY ABILIS
2-System-Landscape Productive
(For smaller SAP Systems)
HANA DEV (256 GB RAM)

HANA QAS (512 GB RAM)

HANA PRD (256 GB RAM) incl. Backup

OS Managed Services

HANA Managed Services

SAP Basis Managed Services
(For smaller SAP Systems)
(For mid-sized SAP Systems)
HANA DEV (256 GB RAM)

HANA QAS (512 GB RAM)

HANA PRD (512 GB RAM) incl. Backup

OS Managed Services

HANA Managed Services

SAP Basis Managed Services
EXCEPERT FROM OUR SAP S/4HANA REFERENCES
Expert Knowledge on our SAP-Blog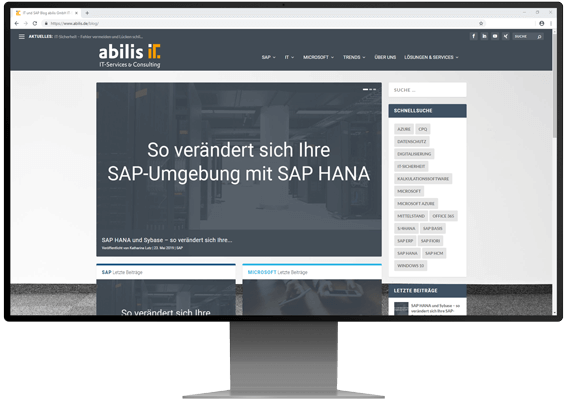 Optimize the manufacturing industry with the ERP Systems